Transform his ordinary beard into an irresistible, soft, and scented masterpiece.🎁
Regular price
$44.97
Sale price
$39.99
Unit price
per
Sale
Sold out
Introduce Him to Beard Perfection: The Savage Man Beard Bundle is meticulously crafted, bringing together our signature trifecta of grooming supremacy – the hydrating beard oil, the transformative conditioner, and the hardworking balm.
This trio doesn't just maintain his beard, it elevates it to its glorious best, keeping every strand nourished, shiny, and oh-so-soft.
Plus, the captivating aroma of cedarwood and pomelo will make him an irresistible force of nature. Treat him to a grooming experience that celebrates his unique manliness in style!
Fast Shipping

Based in the United States

Savage Guarantee
Share
View full details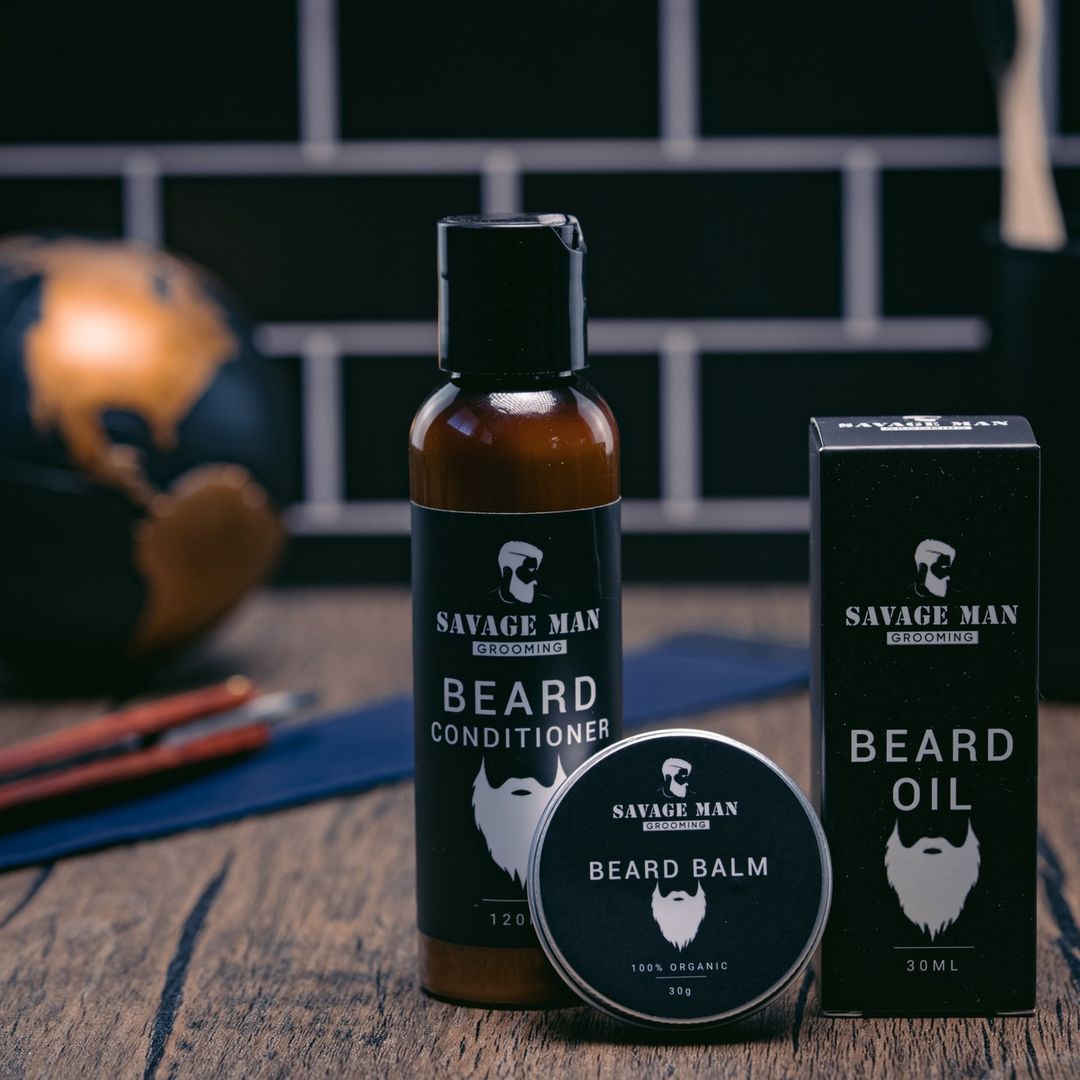 More Details About Our Beard Bundle Gift Set
Highlights

Presenting our Ultimate Savage Man Grooming Bundle, a holistic solution for all beard care needs. This all-in-one package embodies the finest in beard grooming, handpicked just for your man.

Transform his morning routine from a chore into a pleasure with this efficient grooming bundle that fast-tracks his prep time.
Included in the bundle is our celebrated All-Natural Beard Oil, formulated to nourish his skin and hair. With its unique blend of jojoba, argan, grapeseed, and sweet almond oils, it disciplines even the wildest beards and turns them into masterpieces.
Our Beard Conditioner, a gentle concoction infused with natural essential oils, brings vitality back to his facial hair, leaving it looking radiant and healthy.
The pièce de résistance of our bundle is our renowned Beard Balm, an all-natural blend that conditions, shines, and manages the beard. The harmonious union of beeswax, coconut oil, and sweet almond oil ensures his beard not only looks its best but feels its best.

Ladies, this bundle is the ultimate gift for your man. Watch as he transforms into the best version of his dapper self, all while you enjoy the benefits of his well-groomed, heavenly fragrant beard. The Beard Balm, the final flourish, is the cherry on top that keeps you coming back for more.
Details

30mL All Natural Beard Oil

Infused with a unique blend of jojoba, argan, grapeseed, and sweet almond oils, this beard oil offers dual benefits. Not only does it hydrate both skin and hair, it also brings order to those untamed whiskers, creating a beard that's irresistibly soft and easy to manage.

30 mL Irresistible Beard Balm

This exceptional balm is crafted with nature's finest: beeswax, coconut oil, and sweet almond oil. It conditions his beard, imparting a shine that screams 'well-cared-for', and ensures a beard that's not just beautiful, but remarkably easy to style.

120 mL Exhilarating Beard Conditioner

Our gentle formula comes packed with natural essential oils, providing a sensory experience that invigorates and refreshes. His beard will feel as good as it looks!
Scent

Our Ultimate Savage Man Grooming Bundle emits a symphony of carefully selected fragrances that strike the perfect balance between strength and subtlety. Here's what you can anticipate:

The All-Natural Beard Oil begins the aromatic journey with the invigorating freshness of sweet almond, which intertwines seamlessly with the earthy undertones of argan and grapeseed oils. A hint of jojoba wraps up the scent profile, offering a soft, nutty finish that lingers delicately on the beard.

Next up in the shower, our Beard Conditioner releases a refreshing wave of natural essential oils, engulfing your senses and transforming a regular shower routine into a spa-like experience. Its scent is both invigorating and comforting, reminiscent of a serene walk through a lush, dew-kissed forest.

Finally, the crown jewel, our Beard Balm, delivers a masterfully crafted aroma. Infused with beeswax and coconut oil, the balm releases an intoxicating, creamy sweetness. The addition of sweet almond oil accentuates the scent with a slight nutty note, culminating in a fragrance that's impossible to resist.

This trifecta of fragrances from the Savage Man Grooming Bundle weaves an irresistible aromatic narrative that transforms ordinary grooming routines into extraordinary sensory experiences. Whether for everyday wear or special occasions, this scent will make your man smell just as fantastic as he looks.
Ingredients

Beard oil

Macadamia seed oil, jojoba oil, Vitamin E, ginger root oil, argan oil, aloe vera extract, grape seed oil, glycerin crosspolymer, natural fragrance

Beard Balm

100% pure coconut oil, tea tree oil, bees wax, sweet vitamin E, almond oil, shea butter

Beard Conditioner

Water, sunflower seed oil, avocado oil, glycerin disodium edita, aloe barbadensisleaf extract, sandalwood oil, ceteartrimonium chloride, glyceryl stearate, cetearyl alcohol, hydroxyethylcellulose, dimethiconol, panthenol